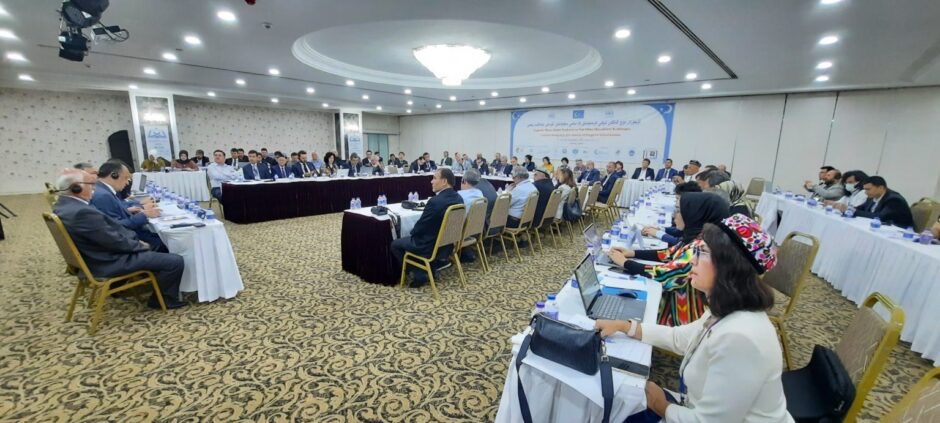 On September 17 and 18, 2022, the Uyghur Academy, in collaboration with several Uyghur organizations including the Center for Uyghur Studies, held a symposium titled "The Uyghur Genocide and Struggle for National Existence". The symposium was attended by Uyghur researchers, experts and representatives of Uyghur diaspora organizations from various countries as well as Turkish academics and politicians.
The symposium discussed topics on stopping the genocide, Uyghur forced labor, protecting the Uyghurs' national identity, raising the Uyghur Genocide to the Turkish and Muslim world, and effectively utilizing the judgement of the Uyghur Tribunal.
The 4th part of the symposium was a panel on raising the East Turkestan case and the Uyghur Genocide to the Arab, Turkish, and Islamic world. This panel was chaired by MemetTohti Atawulla, Senior Program Officer at the Center for Uyghur Studies. Executive Director Abdulhakim Idris delivered a presentation on raising the Uyghur Genocide in the Islamic World. Then, Istanbul University faculty member Dr. Ömer Kul offered suggestions on what should be done to effectively raise the Uyghur Genocide in Turkiye. CUS Senior Fellow Abdullah Oğuz gave a speech on how the Uyghur Genocide should be explained to the Turkish World. Muhammed Emin Uyguri, head of liaison for the Arab-Islamic World of the International Union of East Turkistan Organizations and expert on Arab-Chinese relations, delivered a presentation on the methods of effectively explaining the Uyghur genocide to the Arab-Islamic world.
The symposium which consisted of 9 panels was successfully concluded on Sunday, Sep 18, 2022.